Given a number of contributing factors, the SMAANZ Board have decided to not hold a face to face conference in Canberra in December this year. Instead, we will revert to an online SMAANZ  conference for a second consecutive year.  We would love you to join us, Wednesday, December 1 - Friday, December 3, 2021.
#SMAANZ2021 Program 
You can view a full overview of our program, including a list of live-presentation speakers for each of our themes here.
#SMAANZ2021 three-step registration process:
To register for SMAANZ 2021, you must be a current SMAANZ 2021 - 2022 financial member. A reminder, membership fees are Full Membership: $50.00 AUD // Student Membership: $20.00 AUD.

This must be purchased through our SMAANZ website here. 

If your membership has recently expired (i.e., you were a 2019 – 2021 member), please ensure that you select the 'login' tab to complete the process, don't create a new account. If you haven't yet accessed your membership portal here on our new website, or have forgotten your password, please request a new one. 

Once logged in, you'll be taken to your SMAANZ Membership Portal. Click the "Complete Payment" option from your membership homepage to complete the process.
You'll receive an email confirmation once your payment has been processed, and your membership plan will show in your member portal.
For any questions regarding the membership process, please contact admin@smaanz.org 

To access the SMAANZ 2021 event,  visit the members-only conference access page (this requires you to be logged in with your SMAANZ membership account). Click the button to be redirected to HopIn platform.
To register to attend SMAANZ 2021, if you have used HopIn previously, please click "Join Event", and sign in. If you have not used HopIn previously, you will need to create an account (this process will take 30 seconds).

When prompted, please enter the unique membership password to access this event: s1m2a3.
You will receive an email from HopIn that you have successfully registered for the conference, and further communication from SMAANZ will shortly follow.
#SMAANZ2021 Program Highlights
We received over 75 abstract submissions from around the world, including Australia, Canada, China, France, Germany, Iran, Ireland, Japan, Poland, New Zealand, Singapore, Switzerland, United Kingdom & United States. We pass on our thanks to all our colleagues who agreed to act as reviewers for the submitted abstracts and are looking forward to some great presentations and discussions
Our program will include 14 themed sessions, each including five live academic presentations throughout the week. Each theme will be hosted by a member of the SMAANZ community who we regard as an "expert" in the theme's field and will conclude with an interactive discussion with the audience.
On Wednesday, will deliver our annual HDR student sessions. The day will include panel sessions, networking and a social event.
On Thursday evening, we will be hosting an evening panel session "Technology & Innovation – Industry Development and Research Opportunities for Sport". This session will also include an introduction to the SMAANZ 2022 Conference in Melbourne.
On Friday, we will also be featuring an interactive workshop on the "Indigenisation of Curriculum" delivered by Stirling Sharpe and Chelsey Taylor.
#SMAANZ2021 Panel Session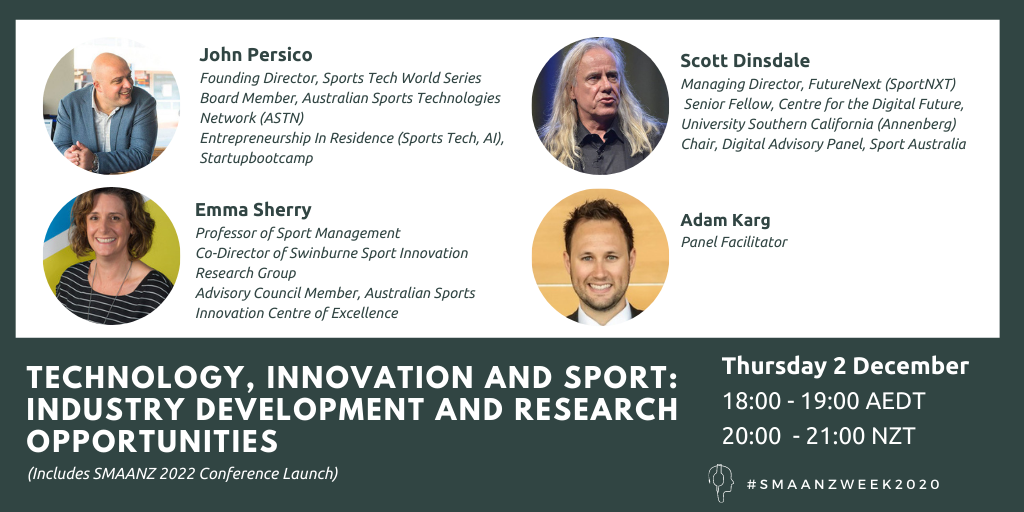 Chaired by SMAANZ President Adam Karg, this session will explore the developing intersection of innovation, technology and sport – with a focus on emerging opportunities for sport management researchers. Featuring an industry panel spanning leaders in digital technology, sport technology strategy and innovative research, the session will explore reflections and experiences from working alongside sport technology companies, leaders of sport organisations, and change makers across the sport industry. We will explore the development of the Sports Tech sector in the region, current and future trends in digital technology and innovation, and hear about initiatives including trade missions, start-up accelerators and the recently launched Sports Innovation Centre of Excellence that are supporting innovation in the region. The session will include a discussion on future areas for development, with the panel reflecting on potential knowledge gaps and a summary of emerging opportunities for sport management researchers.It will conclude with the launch of the #SMAANZ2022 Conference to be hosted by Swinburne University of Technology. Conference Chair Prof Emma Sherry will introduce the conference theme (Sport Innovation: Connecting People and Technology) and provide an overview of the 2022 SMAANZ Conference.