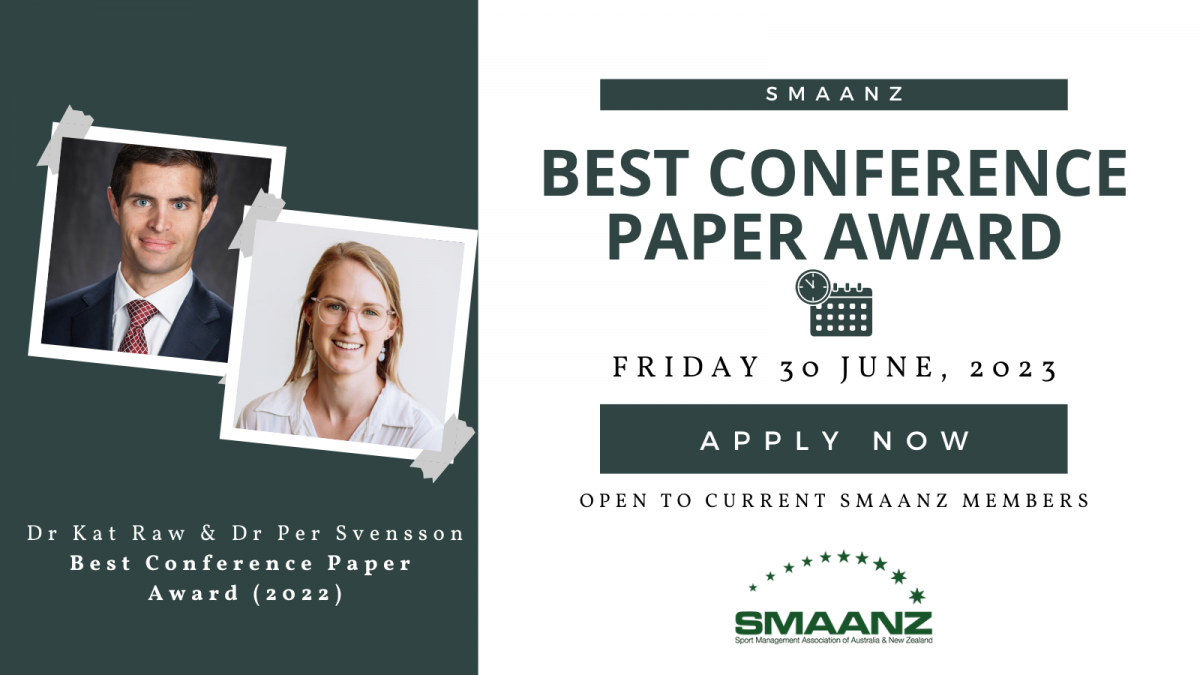 ---
Deadline extended until 31st July 2023
Purpose
The purpose of the SMAANZ Best Conference Paper Award is to support three of the purposes of SMAANZ:
encourage scholarly inquiry in sport management;
provide a forum to present and communicate results of sport management related research; and,
enhance the application of management theory to the sports context.
Eligibility 
The SMAANZ Best Conference Paper Award is open to any applicant who has submitted an abstract for the SMAANZ Conference and who intends to register and present at the SMAANZ Conference.
Conditions of Award
The paper submitted for the award cannot be a) currently under consideration for publication in any other outlet (e.g., journal, conference, or book), or b) have been previously submitted to any outlet (e.g., submitted to a journal or presented at a conference).
The paper must be a full paper and the paper must be written in accordance with the instructions to authors for Sport Management Review. Submissions that do not adhere to the SMR submission guidelines will not be considered.
Authors will receive feedback from three reviewers. NOTE: this feedback is distinct and separate from feedback provided through the SMR review process. However, it can be used to further develop your eventual submission to a journal.
The winner must attend and present their paper at the SMAANZ Conference in the year of the award
The award will consist of (AUD)$1000, free registration for the SMAANZ Conference in the year of the award and a certificate presented during the SMAANZ Conference.
Award winners will be expected to serve as a reviewer for the award in a future year.
Deliverables
Applicants for this award must submit a full paper which addresses the following criteria:
Well written and free from errors,
Purpose of the research is clear and concise,
The justification for the need for the research is convincing,
Informs sport management research,
 Makes a sound theoretical contribution, and
Adheres to SMR author guidelines and referencing styles.
Application Procedure
Applicants will submit their manuscript for consideration via the SMAANZ website on the SMAANZ abstract due date
A SMAANZ Board Member will Chair the Best Conference Paper Committee by appointing two reviewers. These three individuals will encompass the Best Conference Paper Committee Review panel. In instances wherein there is a high volume of submissions, additional reviewers will be enlisted.
The Committee will recommend a recipient to the SMAANZ Board.
The conferral of the award is dependent on the quality of the applicants in relation to the criteria and thus the Best Conference Paper Committee reserves the right not to confer the award in any given year.
The recipient of the award will be notified no later than 30-September.
---