HDR Mid-Year Conference
9:00am Friday, 1 July 2022
6:00pm Friday, 1 July 2022
Griffith University, Gold Coast
Olsen Avenue
Gold Coast
,
Queensland
4211
Australia

We are excited to officially launch registrations for our Mid-Year HDR Conference. This will be run in partnership with ANZALS and CAUTHE, so there will be plenty of opportunities to meet and chat with academics and students from a variety of disciplines.  We would love you to join us, Friday 1st July 2022, at Griffith University, Gold Coast.  We encourage you to forward this to your relevant HDR student cohorts and encourage them to attend/and or present. Students need to be a member of SMAANZ, ANZALS or CAUTHE to attend or present at our free event.
Start
End
Activity
09:00
10:30

Griffith Sport Tour (G45)

To start the day, we will meet at the Griffith University Aquatic and Fitness Centre for an interactive on-campus tour. We will be joined by Griffith Sport staff showcasing facility management, Commonwealth Games upgrades and an overview of Griffith Sport programs.

10:30
11:30

Panel Session (G42_3.06)

"Managing competing priorities throughout the PhD" This panel is an opportunity to hear from former-PhD students from across SMAANZ, CAUTHE and ANZALS who have recently completed their PhD. Questions are encouraged!

11:30
12:00
Networking Event (G42_3.06) - Meet students and academics from a variety of disciplines in our fun, interactive networking event!
12:00
13:00
Lunch (provided)
13:00
14:15
Round 1 Presentations (G42_2.11 & G42_2.15)
14:15
14:45
Afternoon Break
14:45
15:45
Round 2 Presentations (G42_2.11 & G42_2.15)
16:00
Onwards
Drinks at UniBar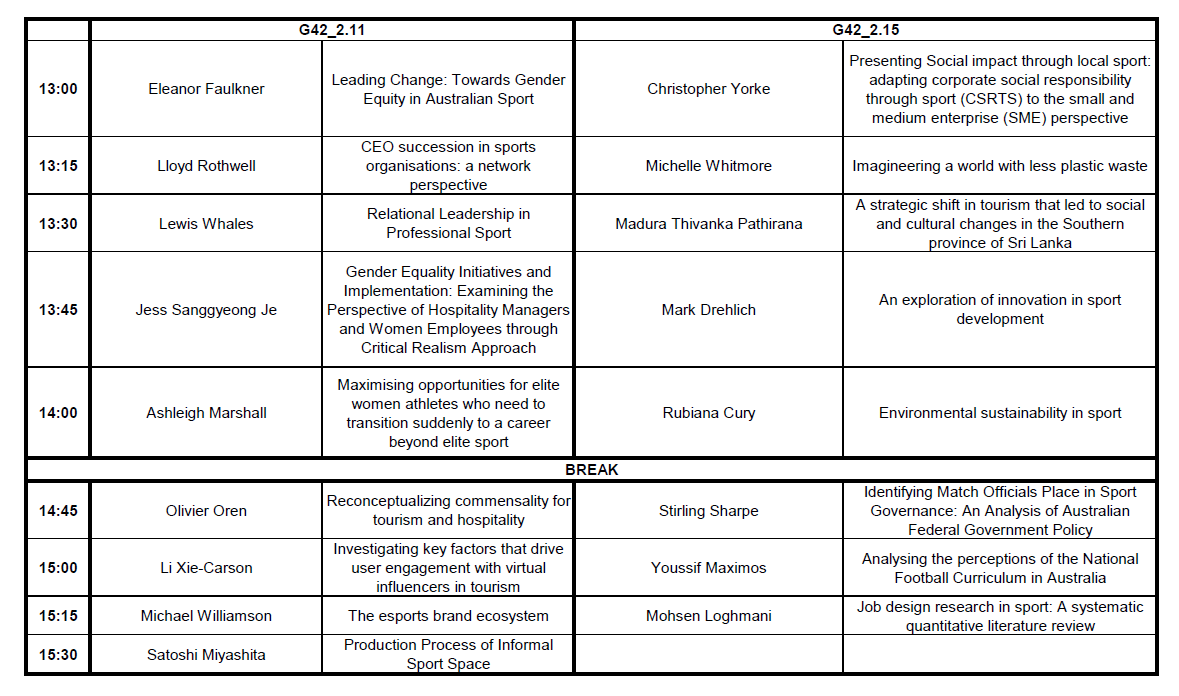 Bursaries: Current Student Members of SMAANZ (as of March 31st 2022), are eligible to apply for a bursary to assist with attending the HDR Conference in Brisbane. For Australian (interstate) students bursaries are available for up to $250, and for New Zealand students bursaries are available for up to $500 to cover flights and accommodation costs. Please note that a maximum of eight bursaries will be granted at the discretion of the SMAANZ board. The bursary program is only available to current SMAANZ student members as of March 31st 2022.  Please contact Chelsey Taylor to apply (cstaylor@swin.edu.au)
Cost: Included in your current SMAANZ Student membership. If you would like to take part and are not a current SMAANZ Student member, you can sign up for an annual membership ($20) through the SMAANZ website: http://smaanz.org/membership/ 
We look forward to seeing you on the Gold Coast at our mid-year HDR Conference. Remember to use the #HDRMidYear2022 to spread the word about our event and keep us updated with your virtual journey to the event.

Chelsey Taylor
cstaylor@swin.edu.au
Contact Information
If you have any questions about the event, please contact our SMAANZ HDR Representative.