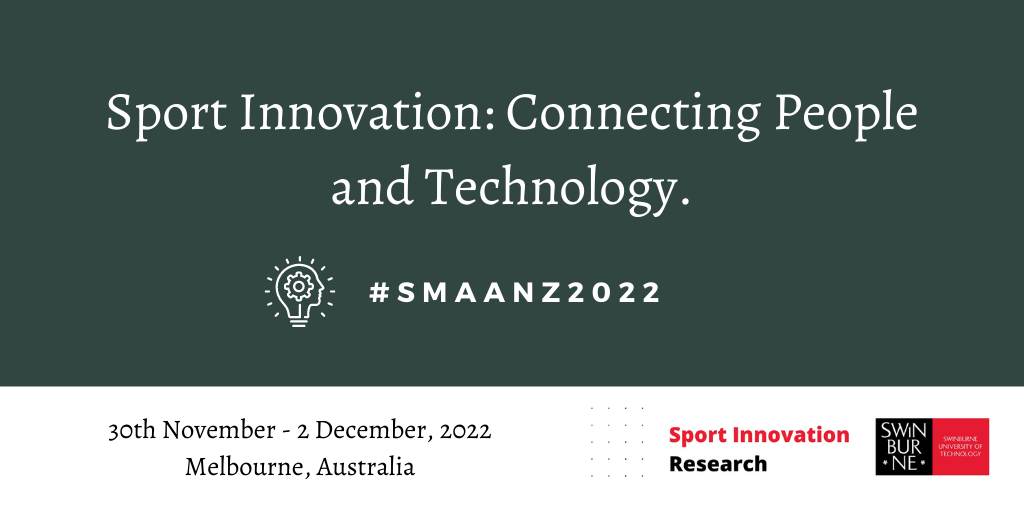 The 2022 SMAANZ Conference will be hosted by the Swinburne University of Technology - Sport Innovation Research Group and will be held in Melbourne, Australia from Wednesday 30 November to Friday 2 December, 2022.
Conference Theme
Our theme is: Sport Innovation: connecting people and technology. The theme will be a feature of keynote presentations and provide guidance for scientific papers at the conference.
Abstract Submissions and Key Dates
 Conference opening/call for papers on April 1, 2022

Conference registration opens: June 2022

Deadline for abstract submission: 11.59 pm (AEST) on June 30, 2022

Notification of acceptance of authors and presenters by July 31, 2022

Early bird registration closes on September 30, 2022

Conference registration closes on November 18, 2022
The Call for Papers is now OPEN! 
We welcome abstracts on a broad range of topics including: 1) management, leadership, governance and marketing of sport, 2) sport development, 3) impacts of sport, 4) sport media and communications, 5) sport and culture, and 6) sport innovation. For the 2022 conference we are also inviting abstracts for the ever-popular Enlightening Talk format, in addition to our traditional conference presentations. 

Abstracts should be submitted via our online portal by June 30th (Australia), in line with the submission guidelines. Please note there will be no extensions to this deadline.
Submission guidelines
We are seeking abstracts for 20-minute face to face presentations and enlightening talks (in person, approx. 6-minute presentation, 20 slides x 20 seconds)
We welcome abstracts on a wide range of sport management topics.
All abstracts submitted for presentation at the conference must contain original research that has not previously been presented, scheduled or under review for presentation, published or accepted for publication, and if under review, must not appear in print before the conference.
Abstracts must be 500 words or less
Abstracts must be 1 page all-inclusive. Please use 12 point Arial font, single spacing.
Please include the full names of author(s), email addresses and institutional affiliation.
Abstracts should not include figures and tables.
Include in-text citations but NOT a list of references - acknowledgement of relevant prior research and sources of words, ideas and data is expected.
Authors' names may not appear on more than two abstracts and subsequent presentations, with the exception of research supervisors on first-author student submissions. In such cases, please indicate the author who is a research supervisor.
Abstracts should be produced as an MS Word document, and submitted and attached through the SMAANZ 2022 online form. Please note, that we will not be accepting submissions via email.
Please ensure all questions are answered on the form including:
Presentation category (empirical research, methodological, conceptual, teaching, industry/government)
Selection of abstract theme
Keywords (up to 5 keywords and/or phrases).
The principal author's contact information
Review process
All abstracts will be subjected to a blind review.
Abstracts will be reviewed based on the relevance of the chosen topic to sport management; use of relevant literature; clarity of purpose; use of appropriate methods and data analysis (if relevant); quality of discussion; and contribution to knowledge.
Registrations
Registrations for SMAANZ 2022 will open in June 2022.
All prices listed are in AUD and include GST of 10%. All welcome function and closing event costs will be included in this fee (unless otherwise noted). Please note, the registration cost is inclusive of the annual SMAANZ membership fee.
Early Bird rates (prior to Sept 30th)
Full delegate package (with welcome function and closing event included) - $750.00

Full delegate rate (no welcome function and closing event included) - $550.00
Student delegate package (welcome function and closing event included) - $400.00
Standard rates (from Oct 1st)
Full Rate - $850.00
Student Rate - $500.00
Additional ticket pricing for social events:
Dinner ticket (subject to availability) - $150
Welcome function ticket - $50