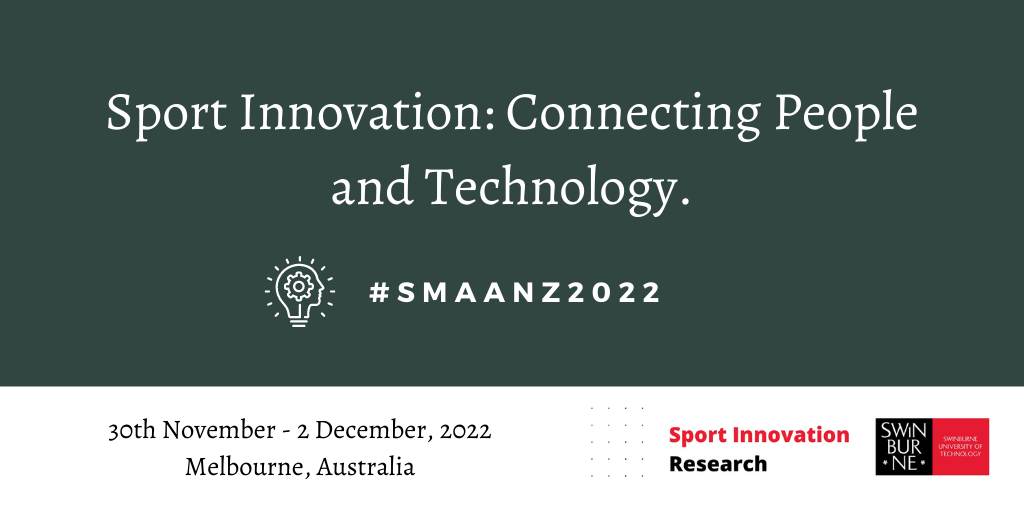 The 2022 SMAANZ Conference will be hosted by the Swinburne University of Technology - Sport Innovation Research Group and will be held in Melbourne, Australia from Wednesday 30 November to Friday 2 December, 2022.
Conference Theme
Our theme is: Sport Innovation: connecting people and technology. The theme will be a feature of keynote presentations and provide guidance for scientific papers at the conference.
Key Dates
 Conference opening/call for papers on April 1, 2022

Conference registration opens: June 2022

Deadline for abstract submission: 11.59 pm (AEST) on June 30, 2022

Notification of acceptance of authors and presenters by July 31, 2022

Early bird registration closes on September 30, 2022

Conference registration closes on November 18, 2022
ABSTRACTS ARE CURRENTLY UNDER REVIEW
Registrations
Registrations for SMAANZ 2022 are currently OPEN
All prices listed are in AUD and include GST of 10%. All welcome function and closing event costs will be included in this fee (unless otherwise noted). Please note, the registration cost is inclusive of the annual SMAANZ membership fee.
Early Bird rates (prior to Sept 30th)
Full delegate package (with welcome function and closing event included) - $750.00

Full delegate rate (no welcome function and closing event included) - $550.00
Student delegate package (welcome function and closing event included) - $400.00
Standard rates (from Oct 1st)
Full Rate - $850.00
Student Rate - $500.00
Additional ticket pricing for social events:
Dinner ticket (subject to availability) - $150
Welcome function ticket - $50
Conference Partners

SMAANZ is pleased to have The Australian Sports Technologies Network (ASTN) as a conference partner for SMAANZ 2022.
ASTN provides leadership in the commercialisation, development and promotion of Australian-inspired sports technologies.
Established in 2012, the ASTN is an industry-led Australian eco-system of organisations with a vested interest in sports technology development. This includes leading sports technologies businesses, national sporting organisations, research institutions, sports distributors & retailers, government agencies, service providers and investors.
ASTN programs are geared to assist Australian sports technology companies to scale and commercialise their technologies into international markets and assist universities and research institutions to commercialise projects. Please head to their website for more information.
If your organisation is interested in our SMAANZ 2022 partnership opportunities, please get in touch with our team (info@smaanz.org)