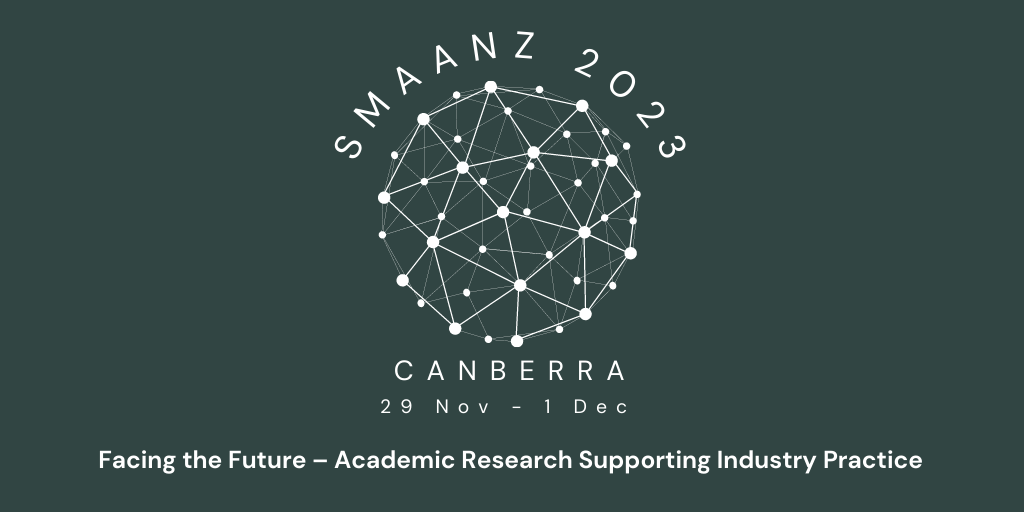 The 2023 SMAANZ Conference will be hosted by the University of Canberra and will be held in Canberra, Australia from 29 November - 1 December 2023. The conference chair is Stirling Sharpe.
Our vision for the SMAANZ conference is ambitious: focused on connecting the Academy with industry and government.  We seek to unlock the potential of SMAANZ and the sport community to deliver a conference with an exhilarating and productive experience.  Consequently, the theme for the conference is: Facing the Future – Academic Research Supporting Industry Practice.  We believe this theme is extremely important and relevant as the various stakeholders in sport seek practical outcomes and solutions driven by evidence that allow us to face the future together.
Key Dates
Conference opening/call for papers on May 1, 2023
Conference registration opens: June 12, 2023
Deadline for abstract submission: 11.59 pm (AEST) on June 30, 2023
Notification of acceptance of authors and presenters by July 31, 2023
Early bird registration closes on September 30, 2023
Conference registration closes on November 28, 2023
Program Overview
Full program including academic presentations. 
Registrations
Registrations are now open!  Click here to register (Please note, that the registration cost for SMAANZ 2023 will be inclusive of the annual SMAANZ membership fee.
Social Program
Welcome Event (Wednesday 29th November)
With the weather in mind, we have made the decision to change our plans for the Welcome Event. We will no longer be hosting the event at UC Stromlo Forrest Park as previously advised. While we were very excited to show off the wonderful nature park that surrounds Mount Stromlo, the weather forecast simply makes this unsafe and would not be overly enjoyable. We will now be hosting you at The Albert Hall. The Albert Hall is an elegant example of the 'Federal Capital' style of architecture of the 1920s. It retains most of its original exterior and interior elements and some features of the original landscape. We have been able to retain our original catering arrangements by moving the event to the Albert Hall. I am very grateful to the ACT Government for allowing us to hire this building at such short notice. The new event details are:
What – SMAANZ Conference Welcome Event
Where – Albert Hall: 100 Commonwealth Ave, Yarralumla ACT 2601
When – 6pm to 8pm
What –
Conference registration/check in – collect your delegate bag
Short speeches from SMAANZ and UC executives
Socialising and networking
An enormous grazing table – the cater assures me you should not leave with an empty stomach
Zierholz Premium Brewery beers
Murrumbateman Winery wines
And a range of non-alcoholic beverages.
Closing Event (Friday 1st December)
We are excited to be hosting you all at a sit-down dinner for the closing event at the National Portrait Gallery https://www.portrait.gov.au/. It is located at King Edward Terrace, Parkes, ACT 2600. Located in front of the High Court and next to the National Gallery of Australia
Please arrive at 6:00 pm for a 6:30 pm start
The dress code is "Cocktail"
Transport to the event:

From the University of Canberra via bus: It is 10 stops and 22 minutes on Route 2 leaving from College Street, Bruce, outside the University Campus to John Gorton Building, Parkes. From there it is a short 120m walk to the National Portrait Gallery.
From City Centre: via bus. ACTION bus routes run from the various city centres past the National Portrait Gallery regularly. Routes 2, and 6 on weekdays and weekends. For the latest bus timetable information please visit the ACTION buses website or Google Transit. hose driving to the gallery are welcome to use the underground carpark for a cost.

A three-course dinner and five-hour drink package
Presentations of SMAANZ awards including recognition of Professor Alison Doherty who has been awarded the SMAANZ Distinguished Service Award.
Socialising and networking
We are very pleased to announce that we will have a panel discussion on the night. The panel will be on the topic of Indigenous Sport Foundations as Vehicles of Change and will showcase the successes of the Indigenous Marathon Foundation and Indigenous Basketball Australia. The panellists will be Rob de Castella AO MBE (founder and director of the IMF), Benny Mills (co-founder and director of IBA), and Faith Stevens (2023 IMP Graduate). More information on this panel can be found in the Book of Abstracts on page 13.
HDR Day Overview
On Wednesday 29th November, we will host our HDR Day for all students at the University of Canberra. Please see an overview of the day below:
10:45 am  - Registration 
11:00 am - Future of AI in Academia Panel  (Pamm Phillips, Sheranne Fairley, Heath McDonald & Adam Karg )
12:00 pm - Lunch 
1:00-2:30 pm - Teaching and Learning Workshop - Developing your Teaching Philosophy (Sarah Wymer)
2:30-2:45 pm - Afternoon Tea 
2:45-3:45 pm - High-Performance Sport Interactive Workshop (Industry Partner)
If you have any questions about our HDR Day, please contact our HDR Student Representative Ellie Faulkner (efaulkner@swin.edu.au)
Run with Deek!
For those who would like to get some physical activity in during the conference, weather pending, you can join Rob and Stirling on a leisurely (definitely not fast!) run around Lake Burley Griffin on Thursday morning at 7am. We will do the Bridge to Bridge loop of the lake which is about 5km total. We will meet at the Captain Cook Memorial Globe which is on the northeast side of the Commonwealth Avenue Bridge. https://www.google.com/maps/place/Captain+Cook+Memorial+Globe/@-35.2905301,149.1290748,140m/data=!3m1!1e3!4m6!3m5!1s0x6b164d3673106491:0xa2589d3aa789b572!8m2!3d-35.2904639!4d149.1296253!16s%2Fg%2F11h0mh0f0y?entry=ttu There is a car park nearby and Stirling would be happy to pick a few people up from Belconnen or the City. If you would like to go for a run please let Stirling know and we will make sure we don't leave without you. All are welcome – IMF runs are always inclusive.