SMAANZ Awards & Grants 2023 - Announcement
Dear SMAANZ Community,
On behalf of the SMAANZ Board, we are delighted to share the exciting news of the recipients of the SMAANZ Awards & Grants for 2023. We are looking forward to the official celebration of each winner at our annual conference dinner at SMAANZ 2023 in Canberra on December 1.
Our sincere appreciation goes to all our judges, reviewers, and A/Prof. Kevin Filo for their dedicated efforts in the review process for SMAANZ Awards & Grants.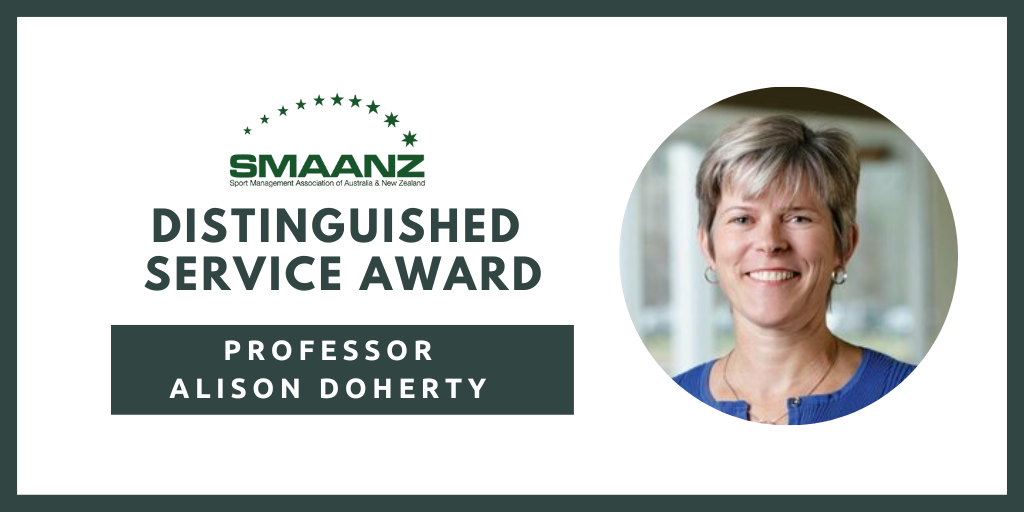 The SMAANZ Board is delighted to announce Professor Alison Doherty as the recipient of the 2023 SMAANZ Distinguished Service Award. Currently a Professor at the University of Western Ontario, Professor Doherty has made significant contributions to SMAANZ, serving in various editorial roles, participating in conferences, and advocating for international collaboration.
Recognized for her prolific research, mentorship, and impactful engagement with the sport industry, Professor Doherty's award will be presented at the 2023 SMAANZ Conference Dinner in Canberra. SMAANZ President, Dr Ashleigh-Jane Thompson, commended Doherty's outstanding contributions to the field of sport management and her international leadership. The nomination received enthusiastic support from the SMAANZ community locally and internationally, solidifying her well-deserved recognition. Congratulations to Professor Alison Doherty on this esteemed achievement.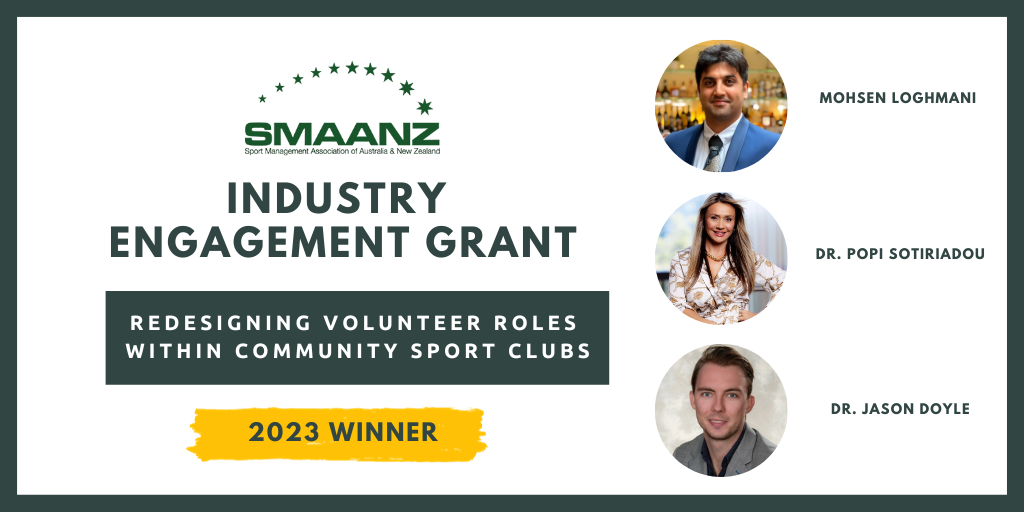 Congratulations to Mohsen Loghmani, Popi Sotiriadou, and Jason Doyle from Griffith University who have been awarded the 2023 Industry Engagement Grant for their project titled "Redesigning Volunteer Roles within Community Sport Clubs: Development of a Job Co-Crafting Plan for Volunteer Engagement."
The project aims to address challenges faced by community sports clubs in attracting and retaining volunteers. With a focus on the job crafting approach, the research team plan to explore how volunteers informally reshape their roles based on personal interests and motivations. Recognizing the significance of volunteerism in the Australian sport system, the project aligns with the Australian Sports Commission's vision for the future of sport volunteering, emphasizing meaningful and mutually rewarding experiences for volunteers. The researchers aim to develop a Job Co-Crafting Plan that incorporates volunteers' informal practices, club expectations, and community goals, ultimately enhancing volunteer engagement and addressing turnover issues within CSCs.
The results of their project will be presented at SMAANZ 2024 in Geelong.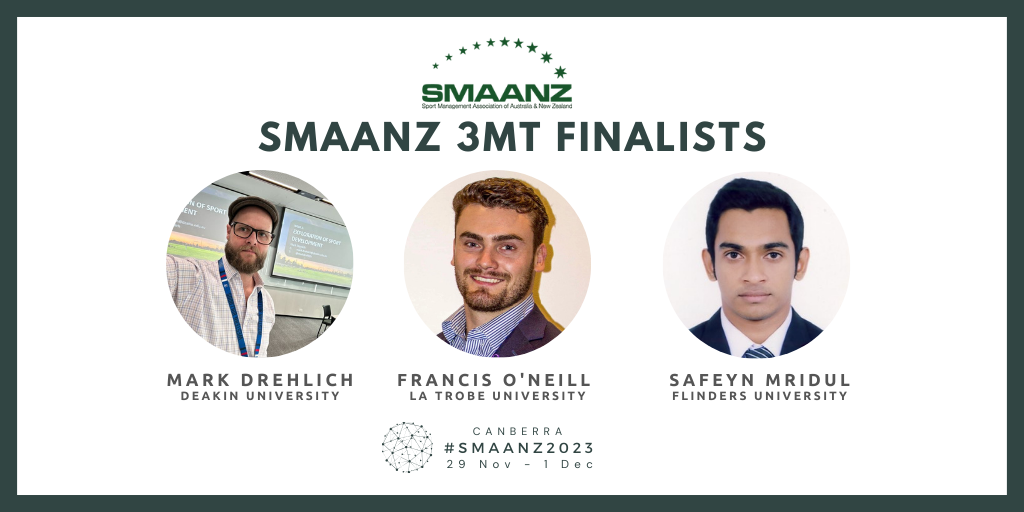 After a highly successful run in 2022, we are thrilled to announce the return of the SMAANZ 3MT.  Our 2023 finalists include Safeyn Mridul (University of Adelaide), Francis O'Neill (La Trobe University), and Mark Drehlich (Deakin University). Witness their captivating 3MT presentations live at SMAANZ 2023 on Thursday, November 30, at 10:20 am, hosted at the University of Canberra. The winner will be revealed at the closing dinner held at the National Portrait Gallery on December 1, 2023.
The SMAANZ Travel Assistance program aims to support students in participating in the student workshop, an integral component of the annual SMAANZ conference. Scheduled for November 29, 2023, the workshop will be organised by our SMAANZ HDR Representative, Ellie Faulkner.
We are pleased to announce the success of the following HDR students in 2023:
Michael Williamson, Griffith University
Linden Moore, AUT
Catriona Arthy, University of Queensland
Maylin Stanic, Loughborough University